Huf House, Kington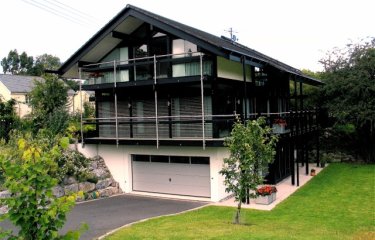 Energy-saving improvements
Location
Three Stones, Kingswood Road
Kington
County Of Herefordshire
HR5 3HE
Opening times
2 - 4 Oct 2015
Saturday, 3 October, 2015 - 10:00 to 17:00


We are trying to make travel between the 8 Kleen Eco Open Building locations in the NW of Herefordshire as simple as possible and many are within walking distance of each other (such as this one). A shuttle transport service may be available between the more distant Kleen events depending on demand.This would allow you to start from the public car parks or bus stop in Kington, Mill Street.

Please contact Gordon Coppock at least 2 weeks in advance, via kleen@live.co.uk or via 01544 232722 if you would like to make use of this transport so that we can organise it.
This event has now finished.
Just turn up
A Huf House, built 10 years ago: features post-and-beam construction using pre-fabricated laminated timber beams, high level of insulation and electronic heating controls. Lots of glass (quadrupled glazed) and large roof overhang to benefit from passive solar gain.
Ground mounted Solar PV system remotely mounted down the garden
Location
Three Stones, Kingswood Road
Kington
County Of Herefordshire
HR5 3HE
Opening times
This event has now finished.
Other homes nearby