Highlands, Cradley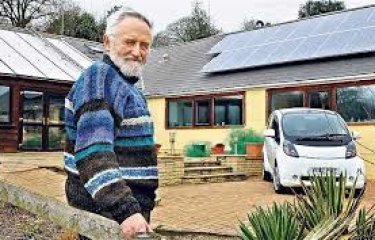 Energy-saving improvements
Glazing

Renewables: heat

Renewables: electricity

Lifestyle change
Location
Highlands, Ridgeway Cross
Cradley
Malvern
County Of Herefordshire
WR13 5JD
Opening times
2 - 4 Oct 2015
Friday, 2 October, 2015 - 09:00 to Sunday, 4 October, 2015 - 16:00
This event has now finished.
Just turn up Opening times as below
This is a solar passive house and is hence gets 99% of it's heating needs from the sun. The remainder comes from a small wood burning stove. Electricity usage is approximately the same as is generated from the roof mounted solar panels operated in parallel with the mains. The PV solar panels also provide free energy for a Mitsubishi I-Miev electric car. The total financial benefit is approximately £4500/year. Features of the house. Massive insulation. Large thermal mass. Energy gathering conservatory. Sun tube. Quadruple glazing. Insulated shutters and doors. 4Kwp solar photo-voltaic panels. Solar thermal panels. Electric car. Semi organic vegetable garden. Wildlife garden specialising in grass snake breeding. Wildlife pond. Water harvesting. Appeared on BBC West Midlands, Newsnight and Radio Hereford and Worcester. This year the house will be open for visits on Saturday & Sunday 12th & 13th October, and again on Saturday & Sunday 19th & 20th October.
Location
Highlands, Ridgeway Cross
Cradley
Malvern
County Of Herefordshire
WR13 5JD
Opening times
This event has now finished.
Other homes nearby